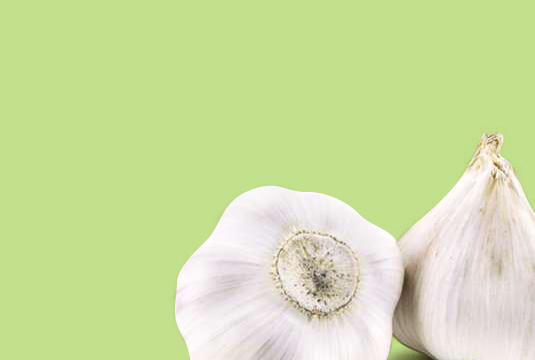 Garlic and garlic flower
| | | | |
| --- | --- | --- | --- |
| Products | Formats | QTY / PAL. | Availabilities |
| Local Garlic | | | |
| Hard-Necked (Henri & Cie) | 24 / 115g | 60 | August – February |
| | | | |
| Garlic Flower | | | |
| Cello (Henri & Cie) | 12 / 100g | 60 | August – February |
| | | | |
Nutritional Value
The unique odour of garlic and most of its other properties are due to the presence of a sulfurous essential oil in the bulb. The main active ingredient of this essential oil is a natural antibiotic called allicin, which also aids in the prevention of various types of cancer, including cancer of the digestive system.
Garlic also contains enzymes, sexual hormones, Vitamins A, B1, B2, PP and C, mineral salts and relatively rare trace elements, including selenium and germanium.
Unpeeled cooked cloves that are left in their skin become candied, and add a light and subtle flavour to your dish. Remove the peel before serving!
Bonus fact
At the end of June, garlic produces a corkscrew-shaped flower, also known as a scape, that is more digestible than the bulb. It can easily replace fresh chopped garlic and green onions. Whether grilled on the BBQ or served in a pesto, it will win you over!
Did you know?
Those who consume garlic regularly develop enzymes that help to decrease the odour. If you only consume garlic occasionally, it is good to know that fresh parsley helps to freshen your breath!
Storage
Store garlic in a dry, well-ventilated location. Inspect the garlic from time to time to ensure that it remains firm, dry and free of discolouration. If the storage location is too humid, the garlic may germinate; if it is too dry, the cloves may become powdery.