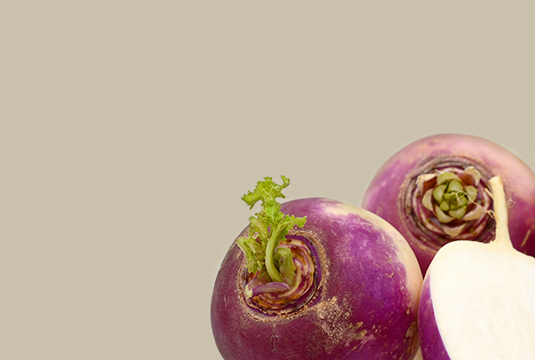 Purple-Top White Turnip
| | | | |
| --- | --- | --- | --- |
| Products | Formats | QTY / PAL. | Availabilities |
| Turnips | | | |
| Large | 25 lb | 80 | August – April |
| Medium | | | August – April |
| | | | |
Nutritional Value
Vitamin C: Good source (30% of the recommended daily value by portion)
Folacin: Excellent source (6% of the recommended daily value by portion)
* A portion equals 85g (150ml of turnip) of raw vegetable.
If you have access to small, fresh, and non-waxed turnips, it is not necessary to peel them before eating. Just eat them the way as you do for carrots- raw or cooked!
Cheesy Turnip gratin
1 GNC diced turnip
15 ml of butter or margarine
2 quarters of lemon
250 ml of diced ham
250 ml of béchamel sauce
125 ml of your favourite shredded cheese
15 ml of fresh chopped parsley
125 ml of breadcrumbs
Salt and pepper to taste
In a saucepan, melt the butter or margarine. Add the turnip and then the ham. Stir well. Add flavour with the lemon juice. Season and incorporate the béchamel and add shredded cheese. Sprinkle with parsley. Butter an oven proof dish and pour in the mixture. Cover with cheese and breadcrumbs. Grill until lightly browned.
Give 4 servings
Tips & Facts Express
Turnip leaves are edible, too; we can use them same as spinach or Chinese cabbage (Bok Choy)!
Did you know that…?
People often mix turnip and its yellow fleshed cousin species, the rutabaga. Turnip's flesh is white and covered by a thin skin which the top part forms a reddish or a purplish collar.
 Historical Note
Latin : Brassica rapa
Root vegetable originates from Europe. This vegetable is part of the same family as cabbage, mustard, and radish.
Storage
Ethylene Tolerance       Yes
Temperature (°C)         0 – 0
% Relative Humidity   90 – 95
Duration (days)             60 – 95