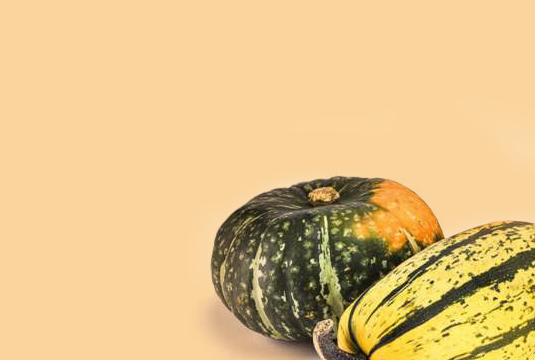 Buttercup, Delicata & Acorn Squash
Buttercup, Delicata, Acorn, Spaghetti and Butternut squash
| | | | |
| --- | --- | --- | --- |
| Products | Formats | QTY / PAL. | Availabilities |
| Squashes | | | |
| Buttercup | 35 lb | 40 | September – December |
| Delicata | 35 lb | 40 | September – December |
| Butternut | 35 lb | 40 | September – December |
| Acorn | 35 lb | 40 | September – December |
| Spaghetti | 35 lb | 40 | September – December |
Nutritional Value
For 125 ml (½ cup) cooked :
Energy: 40 kcal
Carbohydrates: 10 g
Fibre: 2 g (source of fibre)
Vitamin A: 60% of RDI (excellent source of Vitamin A)
Potassium: 15% of RDI (good source of potassium)
Vitamin C: 15% of RDI (source of Vitamin C)
Did you know that, once it is cooked (45 to 60 minutes at 180 °C [350 °F]), spaghetti squash can be separated into long golden strands using a fork? It is delicious when served with your favourite tomato sauce!
Spaghetti squash with sausage, kale and Oka cheese:
1 medium spaghetti squash (approx. 3 pounds)
15 ml (1 Tbsp.) olive oil
Salt and fresh ground pepper
250 ml (1 cup) grated classic Oka cheese
Ingredients for the stuffing
15 ml (1 Tbsp.) olive oil
1 small onion, finely chopped
2 cloves of garlic, very finely chopped
250 ml (1 cup) sausage meat, or the equivalent of two sausages (Italian, merguez or other)
500 ml (2 cups) minced kale leaves
375 ml (1 1/2 cups) tomato sauce, homemade or store bought
5 ml (1/2 Tsp.) dried oregano
1 ml (1/4 Tsp.) dried basil
Salt and pepper to taste
Preparation
1- Preheat the oven to 375 °F. Line a large baking sheet with parchment paper.
2- Cut the spaghetti squash in half and remove the seeds. Baste the flesh of the spaghetti squash with 1 Tbsp. olive oil, and salt and pepper generously. Place the squash on the parchment paper, flesh side down. Cook for 45 to 60 minutes, or until the squash is tender.
3- Use a fork to gently rake the strands of squash in order to detach them and make spaghetti, leaving the strands inside the squash.
4- In the meantime, preparer the stuffing. In a skillet, brown the onions, garlic and sausage meat in the olive oil (approx. 10 minutes). Use a spatula to break the sausage meat into small pieces while cooking. Add the rest of the ingredients for the stuffing, and continue cooking for 5 minutes. Add salt and pepper to adjust the seasoning.
5- Push the flesh of the spaghetti squash down to make more room for the stuffing. Stuff each half of the squash with the stuffing, and cover evenly with the grated Oka cheese. Broil in the oven for a few minutes, or until the cheese is melted and slightly golden.
Did you know?
Spaghetti squash is rich in beta-carotene and contains fewer calories than pasta. It is a great vegetable for those who are conscious of what they eat!